CONFIGURATION INSTRUCTIONS
Configuration instructions: this is how to put your drawer cabinet together.
1 Selection of the cabinet base area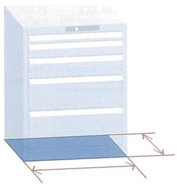 The first step is the selection of the cabinet base area. It can be indicated in millimetres (width x depth) or Huni units (U x U).
The measurements U x U indicate which drawers match which housings.
2 Selection of housing and locking system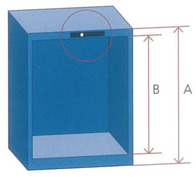 After selecting a base area you can specify the housing. Different heights are available for every floor plan.
The selection of housing always includes the choice of the desired locking system and colour.
3 Selection of drawers
Determine the front height, carrying capacity, and colour of the drawers. The total sum of the front heights C must correspond to the usable height B (refer to figure in point 2). Please also select the type of safety catch.
4 Selection of accessories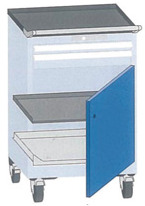 The drawer cabinet can be combined with hinged door, plain shelves and pull-out shelves. Further housing accessories (cover, base, wheels and push handle for mobile cabinets) are also available. Mobile cabinets must be fitted with a drawer safety catch.
5 Selection of partitioning material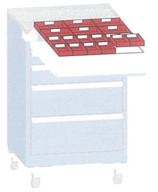 Partitioning material for drawers is usually ordered as a set. The available selection is large. Please note: the partitioning material must match the drawer height and usable dimension.
6 Determination of price
The price of the drawer cabinet corresponds to the sum of all the selected elements in the corresponding configuration.