1 Central locking system
All drawer cabinets have a patented central locking system that simultaneously locks all drawers.
2 Drawer fronts
All drawer handle strips have covers on the sides and are flush with the cabinet housing on the front. This not only has a great appearance, but it also prevents injuries.
3 Safety blocking system
As standard feature, the single-drawer blocking system blocks all other drawers when one drawer is pulled out. This provides reliable protection against the toppling of the cabinet.
4 All drawers with full extension
The differential extension, guided without a crossbar, ensures perfect quiet running–even when the stored materials are very heavy. Moreover, it allows full extension, which is why you also have easy access to parts that have been placed right at the back of the drawer.
5 Base
The base allows the height of the drawer cabinet to be adjusted. Drawer cabinets beginning from a certain size can make use of a pallet base. This allows the cabinet to be moved with a forklift truck.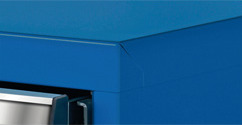 Impact-proof paint finish
Huni Italiana 75/200 is available in 11 standard colours and (for a surcharge) in 20 further colours. The environmentally friendly powder coating ensures impact-proof and abrasion resistant surfaces. Drawers are dip-painted and thus have optimal corrosion protection.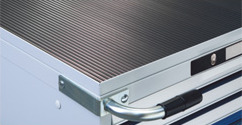 Covers
Rubber ribbed mats, as desired with or without retainer top.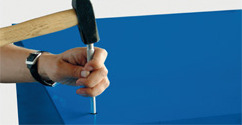 Punch out
All body tops are supplied with perforated holes.
This allows all cabinets to have a table top or a second cabinet stacked on top of it at a later stage.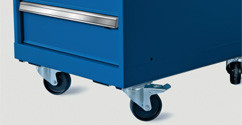 Mobile cabinets
Our mobile drawer cabinets can feature a retainer top with raised edges on four sides, black ribbed mat as well as two fixed and two steering castors. The steering castors are fitted with a parking brake. Mobile cabinets must be fitted with a drawer safety catch.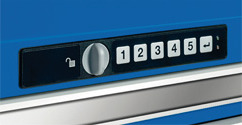 Electronic locking system
With Code Lock, a number combination replaces the key. Due to the battery powered operation, the system is independent of an external power supply. At page 14 you will find a detailed overview of all options which are available for this.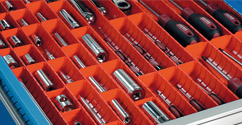 Partitioning material
For the sake of orderliness the drawer partitioning materials have been standardised and thus can be put to use right through the cross section of the Premium assortment.
Matching partitioning material is offered by Huni Italiana for each drawer size.