Drawer cabinets > 36 x 27 Units
Drawers
Description
Steel sheet construction, powder-coated according to the colour chart. The drawers with different front heights and with 100% full extension can be installed inside the cabinets in any sequence.
The total of the different heights must correspond to the usable height of the cabinet.
The drawer sidewalls, slotted at a pitch of 17mm, and their perforated bottoms, together with a wide range of partitioning material, allow individual subdivision for perfect storage of different tools and parts.
All drawers are complete with aluminium handle and end caps, paper label strips and transparent shields. Safety locking device to prevent cabinet from tilting (only one drawer at a time can be opened).
On request, drawer safety catches can be installed under the handle on the right hand side. These drawer safety catches are necessary for mobile cabinets as they prevent drawers from opening when moving. All drawers run on single extension rails with bearings and with an opening capacity of 100% of their depth.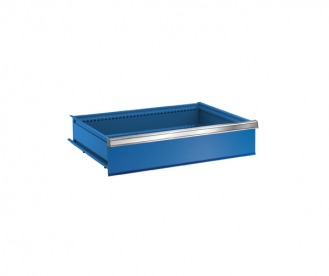 Dimensions
Front height
mm

75kg
Usable height
mm

200kg
Usable height
mm

Side wall height
mm

Load capacity 75kg*
Code
Load capacity 200kg*
Code
50
32
28
805.101
75
57
57
49

80

5

.102

80

5

.127
100
82
82
77

80

5

.103

80

5

.128
125
107
107
77

80

5

.104

80

5

.129
150
132
132
127

80

5

.105

80

5

.130
175
157
157
127

80

5

.106

80

5

.131
200
182
182
177

80

5

.107

80

5

.132
250
232
232
227

80

5

.109

80

5

.134
300
282
282
277
80

5

.111
80

5

.136
Paper label strip + Transparent shield (10 pieces) - 828.266
Drawer safety catch - 828.270
* Capacity with uniformly distributed load
Working surface 612x459mm = 36x27U (U = units of 17mm)